Hi, this it is the process that I followed to make my "dynodes"
well, this is no real dynodes, but looks good.
first, I cut a small square 26X26 mm. of rubber matting used for making cylindrical type molds, burman sells this item.
http://www.burmanfoam.com/estore/ProductSearch.asp
and the SKU number is rub-mat
and cut a 28X28 mm. frame 1 mm. wide sides in trovicel (foamed PVC)
I don´t, know how is the name of this material in US,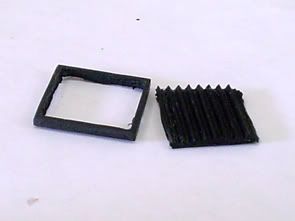 and glued together with crazy glue, and I made a silicone mold.
I used black dental acrilic fast curing to cast the pieces, this material consist in two parts a liquid and a "dust", and cames in a various colors first I put a some drops from liquid in a mold: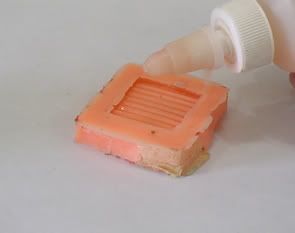 and later I put the "dust", taking care of that the dust becomes damp,
and adding more liquid, and mix both materials: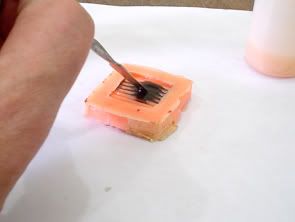 it continues adding liquid, dust, and mixing until filling the mold.
when the material is curing put off the mold and sand the frame to rouned edges and add 2 tongues with 2 little holes in both sides with more acrilic or five minutes epoxi:
this is the front view of "Dynode"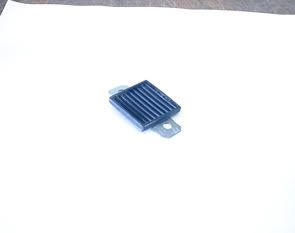 then, I paint with copper spray only in one direction, only in 1 face of the "slots":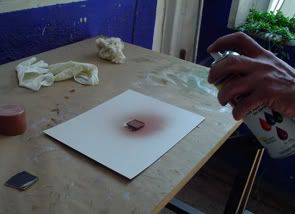 I retouch paint the other sides of the slot vents with black and the frame with aluminium paint: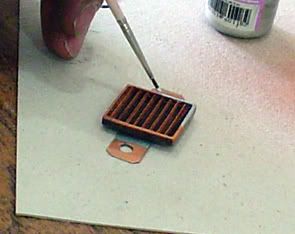 This is a photo of my mask sculpture painted of black with 1 dynode and a close up upper view: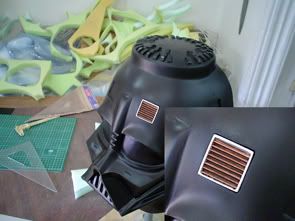 And other view "frog" eye.
and a close up: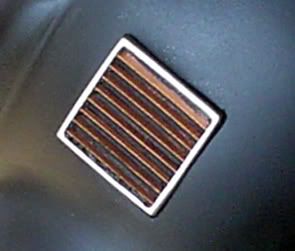 Yes, I know, this isn´t a real vent, or dynode, but looks good, I think.
I hope that this helps them in your project.