I will draw two scale bars on the template... 1" and 2cm. It will be no more than the shape and size of the perforated metal backing portion, including the opening in the center for the "valve head". The entire length of this part is 13.5", or ~ 34.25cm (give or take). This means you will either have to print it out in sections, or print it out smaller and then enlarge it on a photocopier or something.
I have a question to ask of anyone who cares to respond... before I finish up the template for posting, are there any requests for what kind of info to include with the posting/template?
GB
UPDATE!!
HERE IS AN IMAGE OF HALF THE NECKBRACE PATTERN. I also have included a link to my original scan if anyone wants to use that to play with. I will be working on a layout diagram as well for the details on the neckpiece, and be discussing the rolled padding on top and bottom, etc. For now, this is all I have for you, but since it is the base of what everything is built on, you can take it and run. Just flip the image here and paste it up at the center line.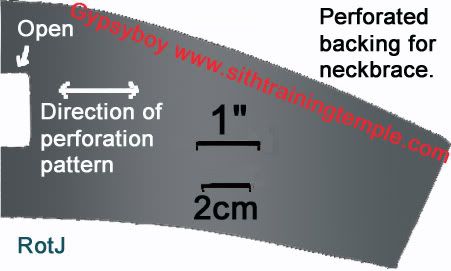 I don't think the above image will print to proper scale, despite my efforts to get it to do so, but at least you have the scale bars on it for reference.
NOTE: THIS IS THE SIZE OF THE PERFORATED BACKING ONLY. THE PADDED ROLLS BEGIN ABOVE AND BELOW THE MARGIN OF THIS OUTLINE. IF YOU ADD YOUR ROLLS OVER THE EDGES OF THIS TEMPLATE YOUR NECKBRACE WILL BE TOO SMALL TO ACCOMMODATE THE DETAILS. YOU MAY NEED TO CUT YOUR PIECE LARGER TO ACCOUNT FOR THAT.
And here's the link to the
original scan
Here's a pic of the neckbrace shape cut out of a piece of textured leather I found. The leather isn't perfect, but it will give the effect until such time as I can get something more accurate. I'm just itching to get something I can actually put out on display. Once painted the leather will look a fair bit like the perforated stuff on the reveal neck. I tried a small piece with paint on it and it is reasonably convincing from a bit of a distance.
The next stage will be to attach the textured leather onto a backing that will allow for proper bending into shape. I'm thinking just a piece of flexible plastic should do it. I will update this post as the project continues.